Porsches and 'Party Pepper Uppers'

Visit the Members Making a Difference page
Story and Photos by Bob Kahn, Orange Coast Region
Everyone involved in PCA Orange Coast Region is familiar with Porsches and Pancakes, Porsches and Pizza; but what about Porsches and Party Pepper Uppers? It has been nearly twelve years now since my daughter and wife were thinking of what to do in response to a Martin Luther King's Day call for doing something for others. Out of that came the idea of making Birthday Party Kits for kids who have never had one in their entire lives. Currently, what started out as ten complete Birthday Parties in Bags for kids at the San Pedro Boys and Girls Club has grown to nearly 6,000 Birthday Parties for deserving kids throughout Southern California!
The concept conceived twelve years ago was to provide a complete birthday party in a bag for kids that had never had a birthday party. The colorful bags included a cake mix, frosting, tablecloth, cups, utensils, napkins, treats and small gifts for the party guests. What started out as one Boys and Girls Club in San Pedro has now expanded to multiple sites in Orange County. Party Pepper Uppers also serves the needs of all Ronald MacDonald Houses throughout Southern California including but not limited to Pasadena, Loma Linda and San Diego.
The Porsche connection is located in our two-car garage in Corona del Mar. What started out as a place to store my 2008 911 and wife's 2007 Boxster has been repurposed as our warehouse to store vast quantities of materials needed to produce over 800 Birthday Bags each year. Storage cases and a packing table have replaced the Boxster which now resides in my daughter's garage in Aliso Viejo. Row after row of well-organized containers hold all of the items that are necessary to fill the coming months orders for Birthday Party Bags. Amazon Prime boxes and donations from the many groups of friends help keep the inventory of birthdays continually filling the garage. The Boxster has been replaced by a 2016 Macan that is used to help deliver the many Birthday Bags to the various Boys and Girls Clubs and Ronald MacDonald Houses. Unfortunately for the Macan, it resides outside the garage to make way for the growing amount of supplies and donations arriving each week.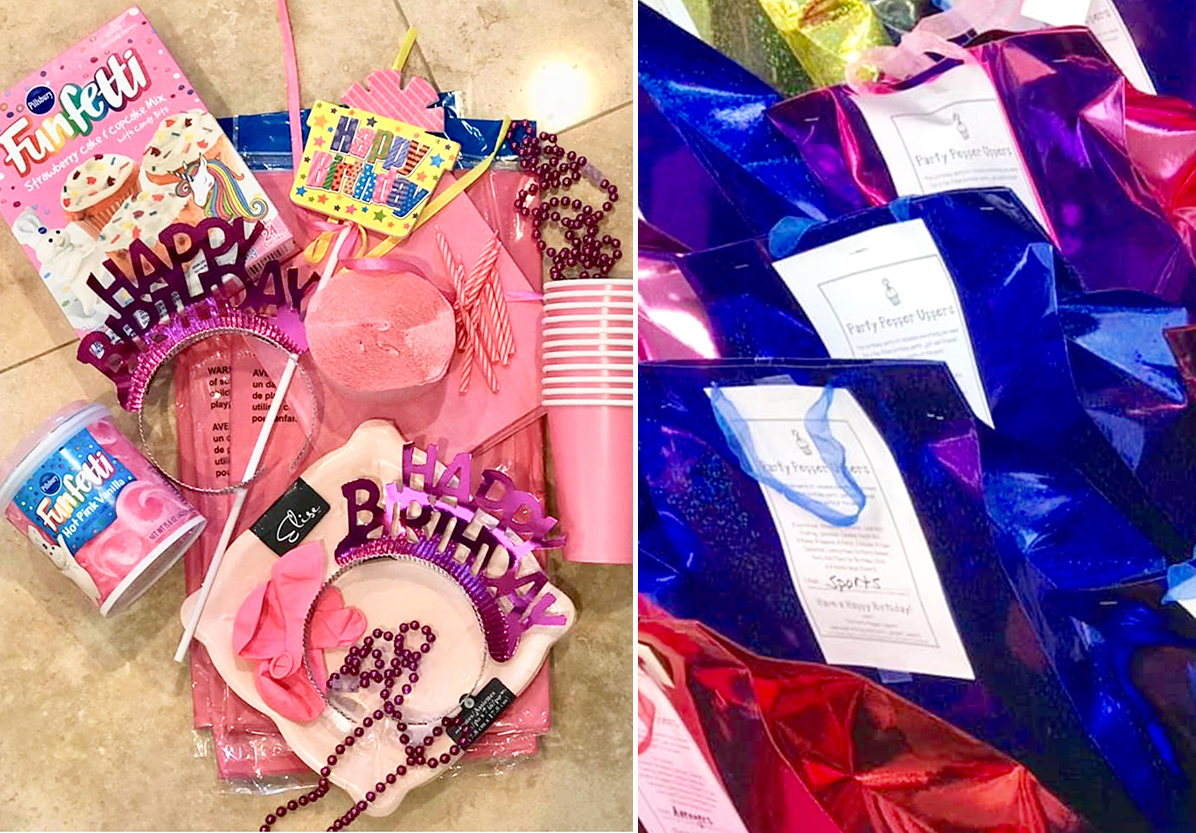 What started out as a mother and daughter working together has now expanded to over thirty volunteers helping out in all aspects of the work to produce well over 5,000 birthday parties for kids. The many helpers include friends and their children helping to put the Party Packages together. Their help comes in many forms such as making donations of cake mixes, frosting, utensils, plates, birthday candles, treats, and the colorful bags that are used to package the Birthday Party materials. Funding for the Party Pepper Uppers 501-C Charity comes from both small cash donations, friends, and family, along with more sizable gifts from corporate contributors.
The Birthday Party Bags all come together every two months when my wife and daughter gather with about 20 helpers to put together all of the individual bag's components. After all materials are carefully sorted, an assembly line of helpers form to gather and place all the items in the Party Pepper Uppers Birthday Bags, each with its own unique theme. Each individual Bag includes a complete Birthday Party for eight (8) kids. After twelve years, it is a well-oiled process that completes 100 to150 Birthday Party Bags every two months.
When everything is packaged and sorted for delivery, it is time for lunch to celebrate the completion of the day's work which is provided by my wife, Gale. Once lunch is over, the bags are distributed to various volunteers who deliver 30 Birthday Party Bags to all over the region, bringing hundreds of smiles to kids that never had the opportunity to have a real birthday party.
Party Pepper Uppers started out as a way to give back to the kids that are less fortunate. It is also a way that the children of the volunteers can also participate in the program by helping to package parts of the Birthday Packages with their friends as part of their own community service programs. Hopefully, they will carry on this tradition into the future just as their parents have done these many years since it all started. Party Pepper Uppers' goal is to continue the program into the future providing less fortunate kids with a big smile on their birthday.
Party pepper Uppers can be located on their Web Site: www.oneFUNthing.com/party_pepper_uppers
Or by contacting Gale Kahn at galekahn@gmail.com or Allison Goedecke at aliigoedecke@gmail.com
---
Every year across Porsche Club of America, members are making a difference with many heartwarming and thoughtful acts of kindness. The above are a few of those community contributions. Be sure to check e-Brake News to read more about PCA Regions making a difference and visit the Members Making a Difference page for additional past articles. If your Region has a charitable activity or event that you would like to share, contact us to share the story.