Sunday Sea to Sky drive pays off for Pemberton Food Bank

Above: Members of the Porsche Club of America's Canada West Region filled their trunks and drove up the Sea to Sky highway on Sunday, to present a $1,000 check to the Pemberton Food Bank.
Visit the Members Making a Difference page
Article by Megan Lalonde
Republished with permission from Megan Lalonde/Pique Newsmagazine
Photos by Joel Parker/Canada West Region
Did you spot a striking fleet of Porsches heading up — or down — the Sea to Sky on Sunday?
If you thought it was just a group of friends with similar taste in vehicles out for a leisurely Sunday drive, you'd be wrong.
On Aug. 16, about 15 members of the Porsche Club of America's Canada West Region hopped behind the wheel and drove north up Highway 99, not just to enjoy the stunning views and sharp corners, but to give back to local communities in the area.
The club presented two $1,000 checks, one each for the Lillooet Food Bank and the Pemberton Food Bank, during a socially distanced "C2Sky Food Bank Drive." Club members also loaded up their "frunks"—also known as front trunks, due to many of the cars' rear engines—with tangible, non-perishable donations, resulting in 220 kilograms of food for the Pemberton Food Bank.
"We love driving the road from Vancouver up to Lillooet, and really down into Merritt, and we've travelled a lot of that," said Joel Parker, the driver in charge of Sunday's event, shortly after returning home from the trip.
As Parker explained, when club members register for group drives, they have the opportunity to make an optional donation during the registration process. In the past, these funds have been collected and donated to other local causes, for example a $22,000 check that the Region presented to the Lions Gate Hospital's paediatric department last year.
"We started off this year with the COVID lockdown and really not doing much driving, and getting kind of frustrated and not collecting much money, and then I kind of started to think about food banks and, because we like driving these roads so much, that we would like to find a way to contribute back to the community," he said.
"When I started to look into it, I realized that, wow, this is a problem," Parker added. Food banks' "funds are really tight ... and the donations have been tough to get in, so that's when I kind of took this drive and said, 'Let's make a food-bank run.'"
The group departed from West Vancouver at 6:30 a.m., reaching their pit stops in Lillooet around 11 a.m., and Pemberton shortly after 1 p.m., before returning to the city later that afternoon—but not before getting stuck in the customary traffic that fills up the Sea to Sky every Sunday afternoon.
The "unique, one-off" event and donation was "super amazing and super appreciated," said Pemberton Food Bank coordinator Loralee Seitz.
Despite being part of a "super supportive" community like Pemberton, resources can often be difficult to find in communities of its size, she explained. "Somehow some [people from] the Greater Vancouver area obviously know who we are and know that we're here and are willing to support on a wider scale and that's fantastic. I hope they keep us in mind for the future—and maybe, because of this, that might open more doors for other organizations that have the means to donate to smaller rural communities," Seitz said.
"We don't have a Porsche club in Pemberton," she added with a laugh, "so it's great that they came up, and I'm super appreciative, as will be all the clients who receive the big Costco run that they did."
The Region's membership includes a wide range of Porsche models, "all the way from really old cars, you know, back to the late '50s and the '60s, all the way up to the ultra-modern one," Parker said. It also includes a wide range of driver ages, "from 20-year-olds to 80-year-olds, even 95-year-olds," he added.
To that end, Parker said part of his role as the past president of the club is to ensure the Region maintains a positive image. "We're not just a bunch of spoiled trust-fund kids that are ripping up and down through your communities, but actually are individuals that give back a lot."
Original article can be read here.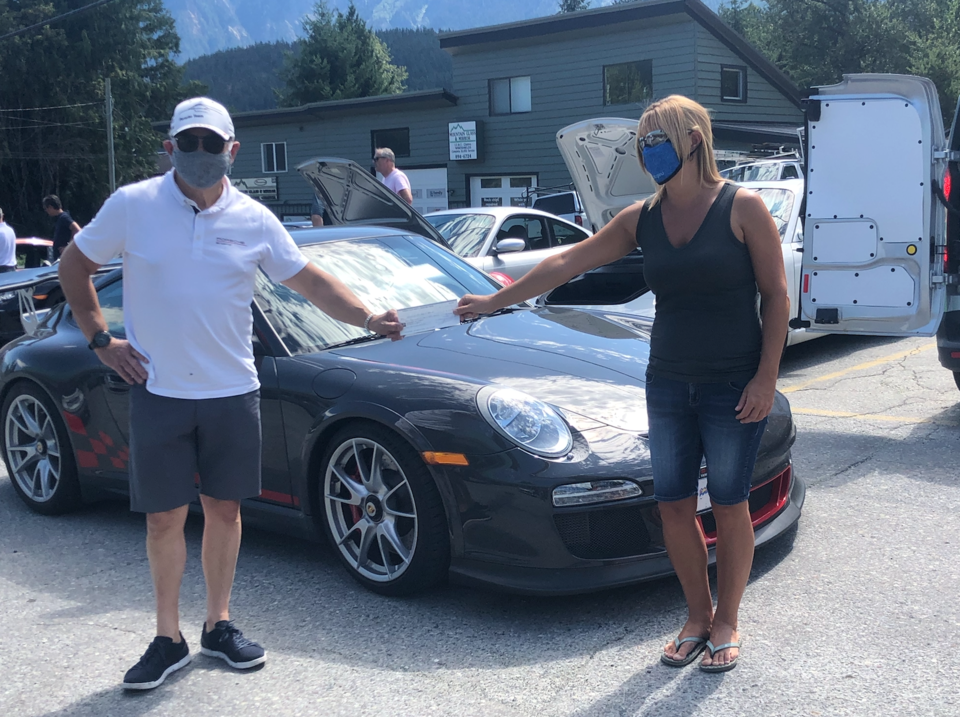 Above: Joel Parker, a member of the Porsche Club of America's Canada West Region, made sure to follow COVID-19 regulations as he handed a $1,000 donation to Pemberton Food Bank coordinator Loralee Seitz on Sunday, Aug. 16.
---
Every year across Porsche Club of America, members are making a difference with many heartwarming and thoughtful acts of kindness. The above are a few of those community contributions. Be sure to check e-Brake News to read more about PCA Regions making a difference and visit the Members Making a Difference page for additional past articles. If your Region has a charitable activity or event that you would like to share, contact us to share the story.