1986 951 8x16 Rear Fuchs fit Rear of 1986 944NA ?
I'm interested in obtaining a set of original '86 951 7x16 and 8x16 Fuchs for my '86 944NA.  The 951 Fuchs front and rear offset (23.3mm) seems to be equal to that of my 7x15 phone dials.  Sounds good; however, I notice in the attached list of 944 wheel sizes from Rennlist that the wider, rear, 8x15 Fuch optional wheel for an '86 944NA had a 10.6mm offset.  This raises my concern that an '86 951 rear hub is not located the same as for the same year 944NA.  Can anyone with experience using '86 951 7x16 and 8x16 Fuchs on the same year 944NA provide some advice/guidance ?
Thanks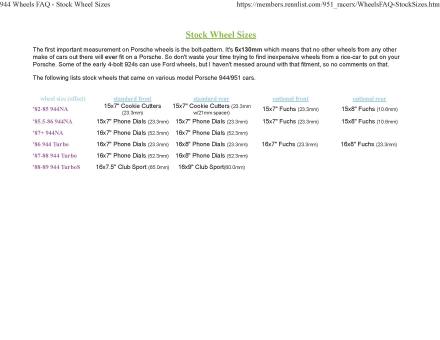 You must log in to view answers associated with technical questions.
Join PCA
to participate in our community.