1998 Boxster 2.5 to 2001 2.7 Engine Swap Upgrade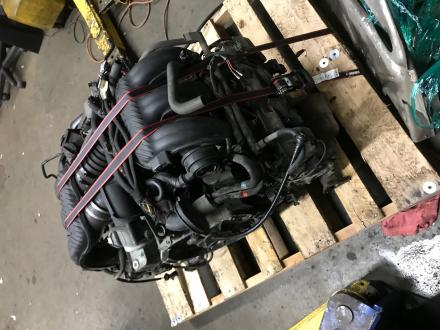 Hi Members, 
I'd appreciate as much feedback from experts in the process and the steps required to swap in a 2001 Boxster 2.7L engine in my 98 Boxster 2.5L (58K, Tiptronic Automatic.) I selected this 01 2.7 engine (see image below) to HOPEFULLY make this swap easy for the shop.   I purchased a 01 Boxster engine 2.7L from a manual donor veh,.  The motor was delivered.  The shop will begin the engine swap process Tuesday. 
The understanding I have in this swap is that I can drop in the 2.7 motor into the 98 Boxster and to utilize the 2.7 motor mount(s).   After reading blogs and the Bentley Service Manual, and 101 Projects for your Porsche Boxster; My concern with the swap are as follow.  
Wiring Harness (Can I utilize my 2.5 engine harness in the 2.7 motor?)  
Throttle Body Intake Manifold (swap the 2.5 to 2.7 engine?  Or keep the 2.7L throttle body? Is it really just as simple as running a 12v wire and another wire to Pin 59 into DME and then remapping it by taking into the dealership?) I'd like to avoid this process if possible, but if it will only cost under $400 and smooth operating Boxster, I can probably consider it. 
DME (Can the 2.7 engine operate with 5.2 DME from 98 Boxster) 
Transmission (Shall my Automatic tranny bolt into the 2.7) 
I am hoping for my swap to be easy for the techs at the shop.  What are some components and or methods required for a successful swap?  All the input will be of much help.  Thank you for reading.   
Oh, FYI: I ordered replacement components such as Alternator (for Automatic), Starter, Engine Air/Oil Separator,  Water Coolant, thermostat, Air Filter, Engine Oil Filter, Fuel Filter, Spark Plugs, Crank Seals, Oil Cooler O Ring Gaskets, Lower Upper and Idler Pulleys, Serpentine Belt, Three Gallons of Porsche Antifreeze. 
And aftermarket Headers and 2.5 Electric Exhaust Cutout.   
You must log in to view answers associated with technical questions.
Join PCA
to participate in our community.