83 911SC No spark / images need help identifing.
Harbert, MI. / Chicago.,&nbsp
Hello, I am looking for help in identifing what these items are and if they might have anything to do with my CD box not working?
The issue we are having has happened twice now since owning (2012), once after the longest drive I ever put on the car, several hours of spirited driving maybe 150 miles. It died pulling into garage, I was out of town for weeks and came back and it started back up and has been fine since, that was last year. This year I drove car from MI. to Chicago to have a shop look at relining the targa headliner and maybe a few weather seals. I drove it back 100+ miles to city no problem. Then we put 50 miles on it on a super hot day running around in city, turning it on and off several times with a couple of decent sprints on Lake Shore Drive, returned home, parked in garage for 3 hours went back out to drive it and it started HARD and stumbled out of garage and died at end of driveway. That was all she wrote.
Think I've got it narrowed down to a bad CDI box, no hum but voltage is going to it. Had to go through the motions to see what was going where and trace out a poorly removed old alarm system to check for ground faults. All seems well just left a lot of it in the car with wires running around that were unnecessary and potential ground issues.  Keep in mind this car is 100% original / stock 123k. My intention is to keep it stock as possible but where making a sensible upgrade makes sense and does not detract from value. Yet making it a reliable 'driver'.
#1 is a sensor of some sort located by the fuel filter and accumulator. I popped off the electric connection boot because it felt 'loose' and sure enough under the boot it is cracked, yet still making a limited connection... I wonder if this sensor sends signal to the CD box and could be a culprit? Below close up with boot removed and larger image to show proximity to other parts for identification.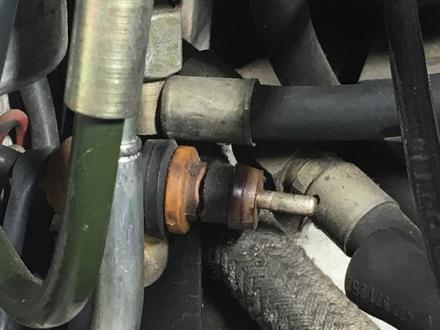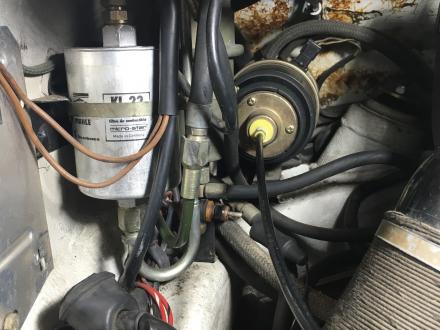 Here is another item I have no idea what it is that was just plastic capped with some corrosion (round plug with three pins) attached to the harness that goes to the CD box 6 pin connector. Any clue?
Your thoughts on keeping the system original with the Bosch CDI as opposed to upgrading to a 'more' electronic system?
http://www.pelicanparts.com/catalog/SuperCat/911M/POR_911M_ELIGNT_pg4.ht... ($200. / rebuild 1 year warranty)
http://www.ecudoctors.com/porsche-cd-box-ecu-0227300004-sc.html    ($425 core exchange / 5 year warranty)
So basically it has good fuel and power to the CD box, Coil is good just no spark to ignite....
Thanks!
You must log in to view answers associated with technical questions.
Join PCA
to participate in our community.