968 Rear window defrost wire connector
 Recently I purchased a 1994 968.   The rear window defrost wire connector has broken off at the main harness where it exits the body plug.  This is the female spade-type connector that connects to the frontside of the hatch strut. and locks into a receptacle.  It is a double-crimp style that has wire insulation support.(NOT a barrel crimp style)  I cannot find a suitable locking female spade connector.  If possible, I would like to replace with an original connector. The connector is the same type (but larger) than the short defrost harness on the opposite end of the strut.  Help?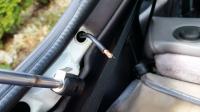 You must log in to view answers associated with technical questions.
Join PCA
to participate in our community.