Do I need suspension work on my 2002 996?
I have been looking at what appears to be a worn shock absorber (or some other part) inside the metal coil within the rear suspension system of my 996 Coupe.  The front shows no visible wear, but the rear rubber (I believe) is separated and appears worn or even torn inside the coil. In the picture, it is allowing the reddish color to be visible, whereas the rubber if not torn would not allow you to see that reddish area.  Both the left and right sides are similar in appearance.
I really was surprised to see a worn part, if that's indeed what I'm seeing, as it likely got past my mechanic's initial inspection when I purchased the car.  The car has been maintained for all checks, oil changes, and regular maintenance at a local Porsche dealer in Atlanta.  The dealer would not allow me to take the history, even though I own the car.  The dealer did allow me to glance at many pages of history, and I wish there were some kind of ownership of records to be available to the owner of a car from car dealers.  Regardless, I can't tell whether the suspension system has had work performed or not, but I do see the outer layer of what I think to be rubber that is torn, exposing the reddish area inside the "shock".  
If you can help me gain a better understanding of what this situation is, I would greatly appreciated the help.  Of course, I am hoping that the parts are fine, but I suspect this not to be the case.  However, I have no sounds or "bottom out" clunks, etc. or any other sounds that are abnormal. I have read other members' suspension reports with lots of sounds or abnormal "clunking" noises, and I have had none of that.  I simply just see what the camera shows, and I'm in hopes that it's normal, but my common sense is telling me there is a worn part here. Sorry the picture is turned with top to the left. The reddish exposed area is to the left or the top of the mechanism.
Thanks for your help,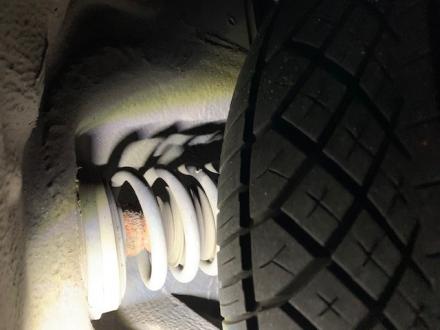 Gary Wilshire
770 707-6607
You must log in to view answers associated with technical questions.
Join PCA
to participate in our community.