Front Sensors?
Hi everyone.  I'm a new member, just took deliver on my first Porsche, a 2009 911 Carrera S in Ruby Red.  It is an awesome car!  (But you all knew that.)
I'm still trying to figure out all the features of the car since I've only had it a week.  There are sensors in the front that I can't figure out.  There are two of them, one on each side.  (One pictured below.)  I'm guessing they are after market because I don't see them in any pictures of other 997.2s online.  Any idea what they might be?
Thanks!
Bryan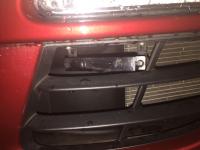 You must log in to view answers associated with technical questions.
Join PCA
to participate in our community.