Sepentine belt problem on 2003 Targa.
I bought a beautiful 2003 996 Targa in excellent condition, with only 17,000 miles - runs like a dream!  Looked at the engine before purchase and everything looked fantastic - serpentine belt looked new!  Today (nearly 2000 miles later) I heard a squeek from the belt when I started the engine.  I drove a mile or so and then realized I had a problem and limped home.  I looked at the belt and saw that the backside was heavily worn and very hot.  Pulled out the airbox and found that one of the deflector/idler pulleys was seized.  HOWEVER, the big shock came when I realized that the belt did not run around that pulley even though the belt was still tight!  I found that the belt was obviously too short and bypassed that pulley, but that caused the belt to rub against itself near the crankshaft pulley.  I can see a pulley seizing, but who in their right mind would solve the problem by putting on a shorter belt?  Has anyone else seen anything like this?  I am amazed that it took so long to show up as a problem!  Have ordered a new belt and pulley set, but I still can't believe what I saw!
.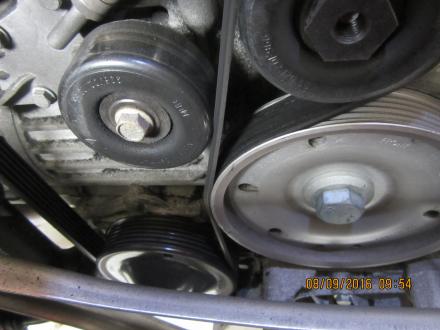 You must log in to view answers associated with technical questions.
Join PCA
to participate in our community.